Extra Virgin Avocado Oil
Extra Virgin Avocado Oil is still the "new-kid-on-the-block" in the oils market; the 'good oil' – a natural, new generation super-food, for great taste & healthy living, Mediterranean style.
Each avocado is hand-picked, then perfectly ripened.
Just like a fresh fruit salad, our 'secret' is to use the highest quality fresh fruit.
On process day, we wash each avocado then remove, (discard), the skin & pit.
We only press the 'flesh' of the avocado – the part you eat.
To preserve all nutrients we process at temperatures similar to an avocado orchard; we call this 'low temperature' or 'cold-pressing'.
Our process preserves Vitamin E antioxidants, 15 important plant sterols & high levels of natural Carotenoids.
It takes about 60 minutes to process fresh avocado into Extra Virgin Avocado Oil.
Each AvoHealth product has a 'clean' label. There are no artificial preservatives, no chemicals and no trick manufacturing.  Of course, it's GMO-free. No cholesterol, no carbohydrates and zero transfats. Every product is gluten-free, dairy-free, sodium-free and has no added sugar. We serve consumers who want minimally processed, natural foods with natural flavors.  Ongoing Scientific Research: Extra Virgin Avocado Oil
Proven to lower cholesterol levels & considered to reduce heart attack risk.
Considered to benefit breast & colon cancers. Slows the progression of prostate cancer
Provides a portfolio of Eye Health benefits
Dramatically increases absorption of nutrients from fresh fruit, salads & vegetables … thus making them all much healthier
Food-lovers, chefs and gourmets use avocado oil because the soft nutty taste, and mild avocado aroma, do not overpower other foods. With a deep emerald-green color, it's an integral part of a Mediterranean style diet. Ideally suited for constant use in the kitchen. Prepare salad dressings and marinades. Or roast – sear – sauté – drizzle – grill – fry – BBQ, at any temperature up to 480˚F or 250˚C.
"We consider AvoHealth Extra Virgin Avocado Oil 'outclasses' the very best olive oils anywhere in the world, on virtually every attribute by which a cold-pressed, extra virgin, natural, oil is judged."
Commercial Orders – avocado oil cold-pressed, to our specifications (usually) in East Africa or Mexico.
Refined Avocado Oil – either RBD or RBDW.
Extra Virgin Avocado Oil.
Forms of bulk packaging include:
Flexitanks     (21,936 kgs

or

48,360 lbs approx).
Totes / IBC's     (948 kgs

or

2,090lbs approx).
Retail Bottles – options vary by country.  Email for details.  For example:
From Mexico:
250 ml round glass bottle
24 bottles
per case
64 cases
per pallet
minimum order
4 pallets
100% Pure Avocado Oil
100% Pure Avocado Oil is a careful blend of Extra Virgin and Refined (Virgin) Avocado Oil.
And it's still an inviting green color.
The avocado are still hand-picked, carefully ripened, and pressed at low temperatures.
We refine our Virgin Avocado Oil to maintain the same healthy fat profile, without any taste or smell.
It can be heated to even higher temperatures before it reaches smoke-point.
100% Pure Avocado Oil is much more stable than Extra Virgin.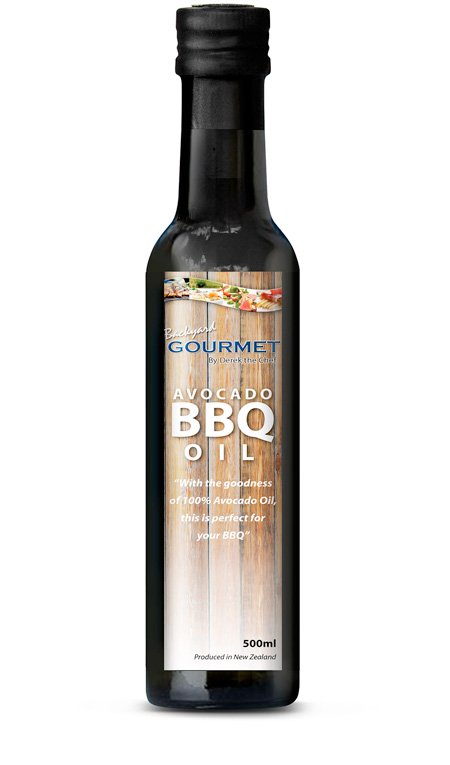 BBQ & Grill Gourmet – Avocado Cooking Oil
The perfect cooking oil for your kitchen and BBQ.
With a mild taste and the healthy properties of fresh avocado, this oil is designed for high temperature cooking up to 480°F or 250°C.
Low-temperature-pressed from hand-picked avocado, 100% Pure Avocado Oil (see below) is a blend of Extra Virgin & Refined Avocado Oil.
Zero carbohydrates, Zero Cholesterol, full of micro-nutrients & the 'good fats'.
BBQ – Grill – Roast – Sauté – Sear – Fry
---
Available in: larger size bottles or Restaurant Catering Packs or 1,000 litre Totes.
Minimum order: 1,000 litres
---